Apple Specialist
As an Apple Specialist we can focus on retail sales, small business, or enterprise sales.  We fit into your daily routine, providing superior service before, during, and after the sale.
Either it be in-store, or on-site at your home or office, we are your partner in technology, a creative solutions provider, motivated to building a relationship, and making you part of our family.
We are a small business that loves solving problems and helping our clients get the most from their Macs.  We are committed to the Macintosh platform and have met or exceeded Apple's highest level of sales and service authorizations.
Retail
With no long wait times and an experienced knowledgeable staff there's no one in the Rochester area that compares.
With our in house service department and no appointment necessary procedures. We can get your computer back up and running sooner.
Training
Our knowledgeable staff is always available to schedule a time to sit down and answer any and all of your technology related questions.
On Site Service
With on-site service there is no need to worry about downtime while your equipment is in the shop. We can send a technician to you location to solve any of your IT woes.
We Are Rochester's Apple Experts
The tablet that revolutionized the world in 2010 now comes in Mini, Air, and Pro. We've got the iPad that's right for your needs and the case that fits your personality.
The Personal Computer has changed in every way but is still the same. Set yours apart with a large selection of protective cases, bags, keyboard covers, accessories, and more.
The most personal device you have should look personal too. Choose from our wide variety of cases, accessories, screen protectors, and more.
The new age of television is upon us. The Apple TV takes television into the 21st century with its new App Store and Siri Remote. Never before has TV been this interactive and personal.
From iPod Touch to iPod Shuffle and everywhere inbetween. The MP3 player that won our hearts 15 years ago is even more powerful and more capable. Don't forget a case or extra pair of headphones.
Showroom
With a calm personalized environment there's no big wait times and you can feel comfortable no-matter how knowledgeable you are about technology.
Calming Environment
Don't feel pressured into buying anything. We want you to feel as comfortable as possible so you can get the most enjoyment out of what you buy.
Expert Staff
With more experience  than anyone else in the Rochester Area we are sure to find the perfect fit for you. We know what Rochester has wanted for 25 years and will continue to adapt and learn more than a big out-of-town corporation.
Locally owned
Born in Rochester. Raised in Rochester. When you do business with us you do business with Rochester and keep our community growing.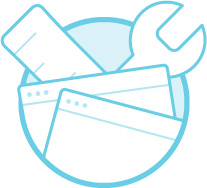 Jacquie Frederick
Owner and Founder of Jessi Group, Inc.
Jacquie Frederick, Owner of Mac-Ave by Jessi Group, Inc. 
Jacquie born and raised in Rochester, NY, and graduated from Nazareth college with a degree in Business Management.
Right out of college, she worked at a few computer stores. However, when her second child Jessica was born, Jacquie was faced with making a decision between her new born who was born sick and required more time and care, and meeting her present employers expectations. A decision a lot of parents are unfortunately faced with; choosing between family or work. 
With the encouragement from customers to start her own company, Jacquie left her place of employment at the time, and "Jessi Group Inc." was born.
In 1991, Jessi Group Inc. was one of 13 locally owned and Authorized Apple Value Added Resellers in Rochester NY. 
25 years later, now known as Mac-Ave by Jessi Group, Inc., they are the ONLY locally owned and operated Apple Authorized Reseller and Premium Service Provider, in Rochester! 
They have been recognized by Apple Corporate as one of their top sales, service, and training providers.
They work with technology from the basic home computer system, to corporate solutions for your business.
7716 Victor Mendon Rd
Victor, NY 14472
We're here to answer your questions
mac-ave
Rochester's Authorized Apple Premium Service Provider and Reseller
© 2016 Jessi Group, Inc.
GOOGLE MAP
Victor Store
7716 Victor Mendon Rd Victor, NY 14564